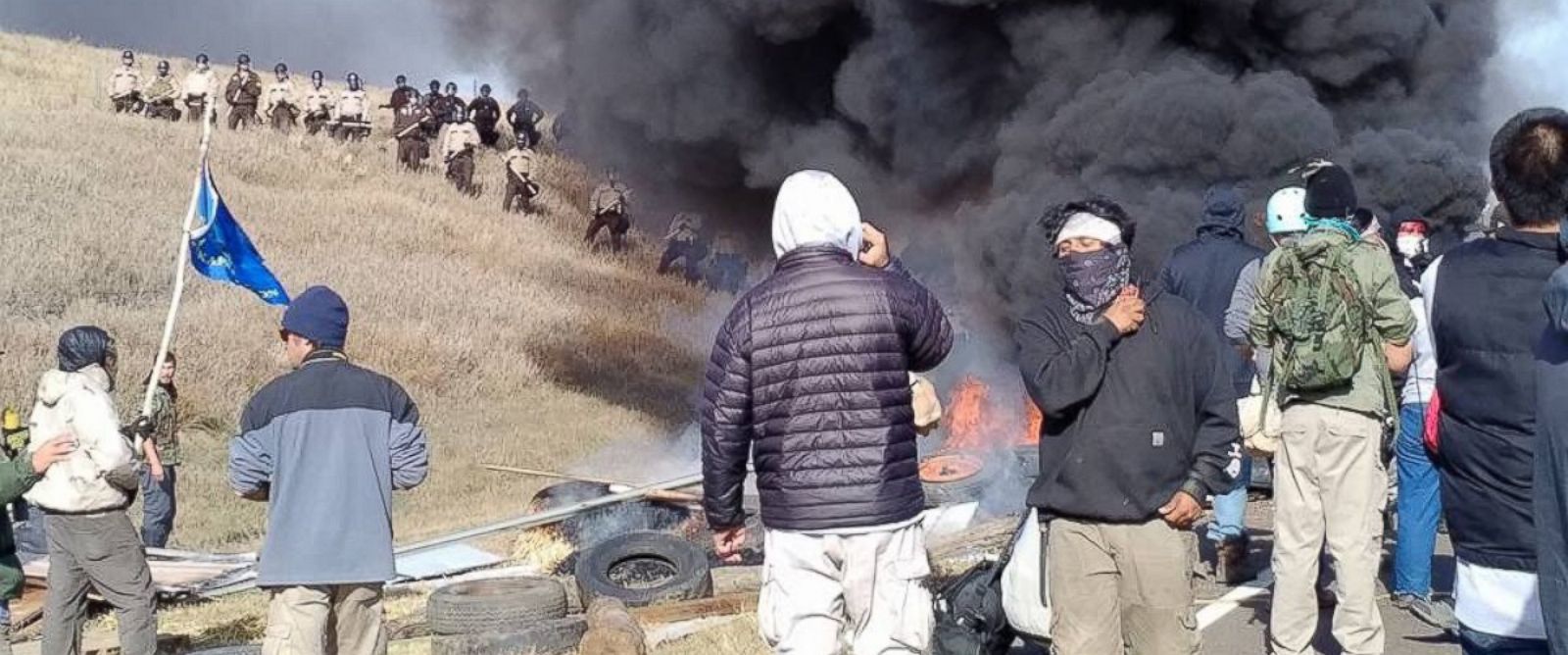 Police arrested 141 people at a protest against the Dakota Access Pipeline in North Dakota today as officers attempted to disperse the crowd, authorities said.
Officers also used pepper spray against protesters who police said were throwing things at them and refusing to comply with law enforcement's orders.
There were two incidents of shots fired late this afternoon and evening, according to authorities. One occurred along Highway 1806 near what is known as the "backwater bridge" north of the main camp — one person is in custody. A protester along the frontline on Highway 1806 also fired three rounds near officers. No one was injured and the protester was taken into custody.
Three protesters had used devices to attach themselves to objects, presumably so they could not be moved from the site by officers, a press release from the Morton County public information officer said.
"The protesters are not being peaceful or prayerful," Cass County Sheriff Paul Laney said in the press release. "Law enforcement has been very methodical in moving ahead slowly as to not escalate the situation. However, the protesters are using very dangerous means to slow us down. Their aggressive tactics include using horses, fire and trying to flank us with horses and people."
Your ads will be inserted here by
Easy Plugin for AdSense.
Please go to the plugin admin page to
Paste your ad code OR
Suppress this ad slot.
But the chairman of the Standing Rock Sioux Tribe said law enforcement was continuing to overreact to the demonstrations against the pipeline project on what the protesters consider to be tribal land.
"Militarized law enforcement agencies moved in on water protectors with tanks and riot gear today," tribe Chairman Dave Archambault II said. "We have repeatedly seen a disproportionate response from law enforcement to water protectors' nonviolent exercise of their constitutional rights. Today we have witnessed people praying in peace, yet attacked with pepper spray, rubber bullets, sound and concussion cannons."
Archambault called on the federal Department of Justice to "send overseers immediately to ensure the protection of First Amendment rights and the safety of thousands here at Standing Rock."
The tribal leader also asked that protesters "remain in peace and prayer. Any act of violence hurts our cause and is not welcome here."
An estimated 250 demonstrators against the pipeline are at the site of private land, and about 80 others at another location nearby, the press release said. Thousands are camped out at Standing Rock Reservation in protest against the four-state crude oil pipeline project.
(CONTINUE READING NEXT PAGE)
Your ads will be inserted here by
Easy Plugin for AdSense.
Please go to the plugin admin page to
Paste your ad code OR
Suppress this ad slot.